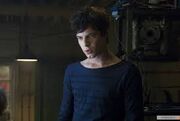 Doon Harrow is one of the two main characters in the book The City of Ember. He can't take situations lightly, and can become tempered easily if provoked, accidentally or not. Doon is always angry, he tries to not think about the generator.
Appearance
Edit
In the book, Doon is described as having dark and thick eyebrows, brown shaggy hair, dark brown eyes and having a slender, almost lanky form. He wears an old brown corduroy jacket. In the movie, Doon has dark brown messy hair, dark eyebrows, and brown eyes, and also is thin as in the movie.
Relationships
Edit
In the book, The City of Ember, Jeanne DuPrau the author mentions how they used to be best friends but stop keeping in contact due to an accident. They rejuvenate this friendship by switching jobs. Lina did not want to work in the Pipeworks and Doon did not want to be a messenger. Lina's dream occupation was Messenger and Doon's was to be an engineer.
In the movie, they seem to be friends or acquaintances already. They work together to figure out the Instructions, and she works with him on their trip to save the City of Ember. Doon Harrow lives with his father who sells small items in his shops, such as nuts and bolts.