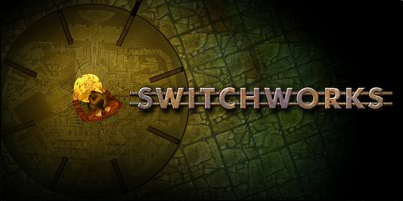 SwitchWorks is a 2008 online puzzle game available on CityOfEmber.com. It is one of the two games available on CityOfEmber.com, the other being Pipe Works Repair. SwitchWorks is loosely based on the film City of Ember, which in turn is based on the book The City of Ember by Jeanne DuPrau.
SwitchWorks is very similar to the 1995 video game Lights Out.
The music for the game is "Interlocking Keys", the 43 second-long track of City of Ember: Original Motion Picture Soundtrack, composed by Andrew Lockington.
SwitchWorks has a very limited background. The basic premise is that the lights of Ember are burning out, causing frequent blackouts, and it is the player's job to recharge the lights without using up too much power.
The game opens with a clip from City of Ember: the scene with the first blackout in the movie, while Doon discusses Assignment Day with his father.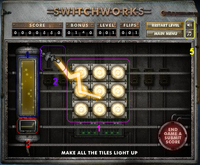 The object of the game is to flip each black tile so that the entire board is white. Tiles represent lights. Each tile also affects the four adjacent tiles. The fewer moves a player makes, the higher his or her score will be.
External links
Edit